The seasonal breakfast at Babel has been voted as one of the "best hotel breakfasts in the world" by Condé Nast Traveler. This moreish granola is part of the daily offering on our breakfast table and has become a favourite among our hotel guests. Enjoy with thick full cream yoghurt and honey, or dress it up for a special occasion with crystallised flowers and dried fruit crisps.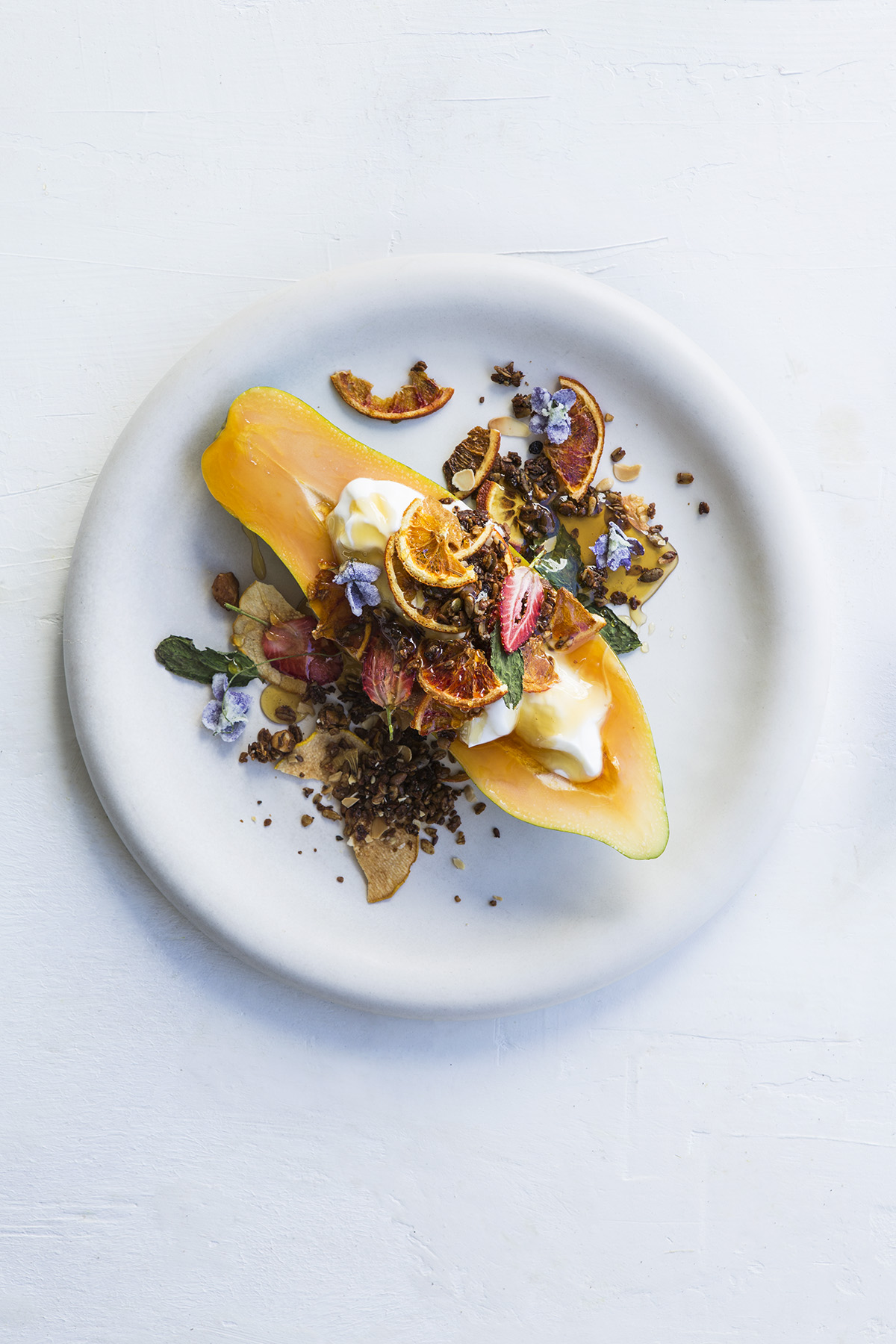 TO MAKE THE HONEY GRANOLA
Preheat the oven to 180°C. Combine 500 ml rolled organic oats, 250 ml assorted seeds and chopped nuts of your choice, 100 ml coconut sugar, 5 ml cinnamon and a pinch of salt. Place on a silpat in a baking tray. In a small saucepan heat 150 ml honey and 30 ml coconut oil until just warm but not boiling, remove and cool down slightly. Add 2 ml of vanilla extract and 2 ml of almond extract and stir through. Drizzle liquid over granola mixture and place in oven. Bake and turn with a large spoon every 5 minutes until golden brown and crisp. Remove and cool down.
TO MAKE THE FRUIT CRISPS
Preheat the oven to 90°C. Prepare a light syrup in a small saucepan, using 1 cup sugar and 1 cup water. Bring to a boil and add juice of half a lemon and a drizzle of honey. Use any fruit of your choice like blood orange, quince, strawberries, apple or pear and slice thinly. Do not peel. Dip into warm sugar syrup and remove. Make sure that the fruit is just lightly covered with the syrup. Place on a silpat into a large baking tray and add a few fresh mint leaves. Place another silpat on top to keep the fruit and leaves down and place in oven to bake until crisp. You may have to remove some of the fruit like strawberries, quince and apple before the oranges and then also the mint leaves. Keep an eye on it all the time – you do not want to burn the fruit. While the sliced fruit is still warm it may feel soft but the minute it cools down it will be crisp. If not, place back in the oven.
PLATE
Use two ripe papinos and slice in half. Remove pips and scoop some plain yoghurt into the cavity. Top with granola and fresh fruit crisps. Drizzle generously with honey and garnish with crystallised violets.
serves 2–4