Harvest season is an exciting time on the farm. Both winemaker and chef eagerly await the ripening of our bounty of grapes, the first of which is the crop of Chardonnay. The harvest is divided up to be used to great effect in the cellar and Babel kitchen respectively.
To see what our winemakers produce with our grapes, browse our fine wine on the online shop. To get a taste of what our chefs do when they get their hands on the season's yield, try out any one of these harvest-time recipes.
WOOD-FIRED PIZZA WITH SLOW-ROASTED GRAPES, FENNEL AND FIOR DI LATTE
This is how we like our pizza during harvest time: a little sweetness from the slow-roasted grapes, a flavourful kick from fennel and a creaminess from the Babylonstoren fior di latte. Serve with a chilled bottle of Babel Red or Chenin Blanc.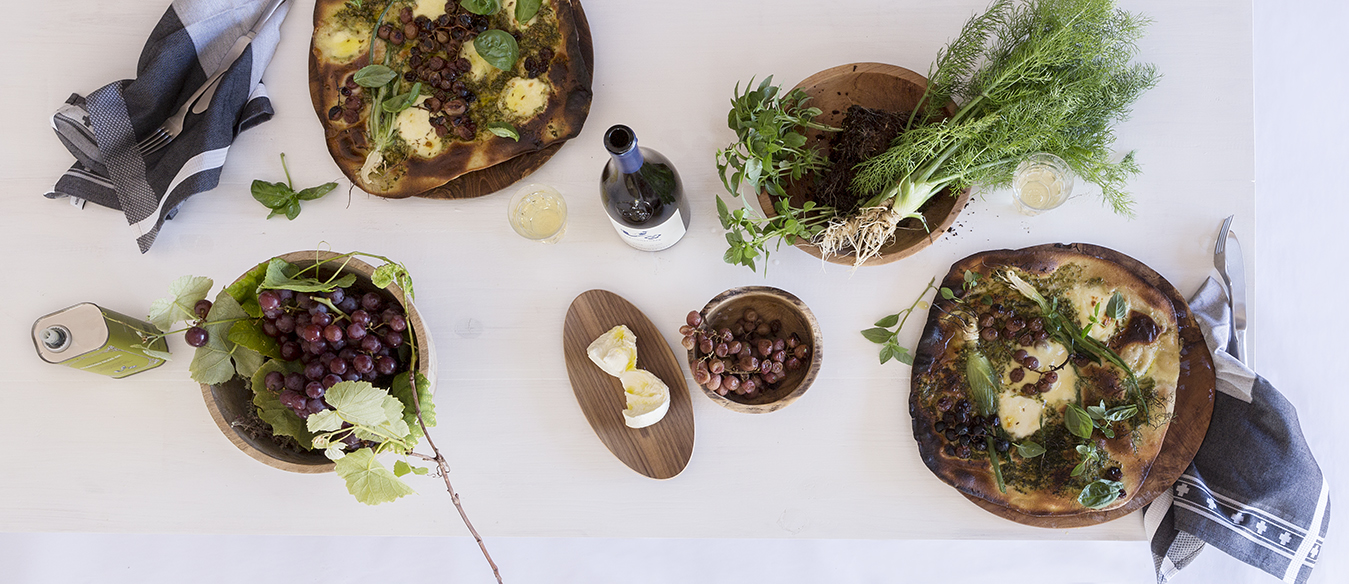 For the slow-roasted grapes:
Preheat oven to 140°C. Wash 1 bunch seedless green or black grapes and place on a baking tray. Roast for an hour or more, until they've started to shrink, but before they have dried out completely. Remove and leave to cool.
For the pizza:
Spread 30 ml basil pesto over two pizza bases. Top with slow-roasted grapes, 3 baby fennel bulbs and stalks, sliced horizontally, 2 balls fior di latte, torn into chunky pieces, and 5 ml fennel seeds. Place into a wood-fired oven and cook until crisp, then remove from the fire. Season with freshly ground black pepper, a drizzle of Babylonstoren extra-virgin olive oil and a sprinkle of fig leaf salt. Scatter with fresh basil leaves. Serve immediately.Tip: Replace grapes with figs, pears or plums.
MOSBOLLETJIES
Made using the first pressing of the wine grapes, the must, this variation of mosbolletjies is fruity and summery – the perfect treat to spread liberally with freshly churned butter.
Sift 3 kg cake flour. Add 60 g salt, 30 g whole aniseed and 500 ml sugar. Mix by hand or with a wooden spoon. Add 3 eggs and rub into the dry mixture. Melt 250 g butter in 1 L milk over a low very heat. Allow to reach body temperature, then add to the flour mixture. Mix well. Add 1 L must. Mix well. Turn out onto a floured surface and knead to form a soft, pliable dough. Shape into a ball and rub with a little olive oil. Cover and leave to proof in a warm place until it has doubled in size.
Divide dough into 6 and shape each into balls. Arrange in a greased bread tin. Cover with a tea towel and leave to proof until it has doubled in size. Preheat oven to 180°C and bake for 1 hour. Turn out of the tin and eat warm, with lashings of butter.
Tip: Instead of kneading by hand, you can make the dough in a mixer. If you can't get hold of must, replace it with grape juice and add 30g of instant yeast to the dry mixture.
GRAPE LEAF TEA
Every February, Gundula serves this tea at the end of her garden tour. The tannins from the grape skin are believed to strengthen the heart.
The grape leaves are also known to help relieve a plethora of ailments, from blood circulation, bleeding, varicose veins and water retention to stomach ache, diarrhoea and thrush. It has anti-inflammatory and antioxidant properties.
Steep washed grape leaves in boiling water for 30 minutes. Strain off liquid and cool. Next, combine 1 kg crushed grapes, 500 g sugar and whole aniseed in a saucepan over a low heat and cover with a little water. Stir to dissolve the sugar and simmer to form a syrup. Leave to cool. To serve, pour syrup in a glass with ice and top with grape leaf tea.